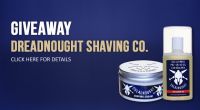 Now that I'm back in town from this past weekend's Lab Series event in Miami, I'm finally caught up in compiling all the entry's and able to announce the winners of the Dreadnought Shave Cream giveaway. Two lucky men have been randomly selected to receive a a shave set that will include Dreadnought's – Pre-Shave Oil, Shave Cream, and Aftershave Balm.
Wes Rayl – Facebook submission
Michael Ptomey – Facebook submission
A BIG thank you to all who participated. There will be more giveaways to come! 
**Winners have been selected through the help of random.org, no preferential treatment was used in this giveaway.