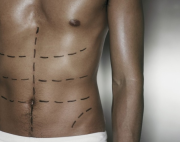 I read an interesting article yesterday in the Wall Street Journal discussing an increase in plastic surgery among men. The statistical evidence shows a 2% (or 1.1 million*) rise from last year. The more popular procedures consisted of: face lifts – 14%, liposuction 7%, and eyelid surgery at 15%.
Even young men between the ages of 13 and 19 made up 75% of 18,000 men who underwent a procedure known as gynecomastia—male breast reduction.
Looking at all of this information, I think it's safe to say that many men are willing to go to great lengths to fit the perceived mold of the "masculine face and body".  So what about you? Would you consider joining the growing population of men willing to "Nip & Tuck" there way to look their very best?
Answer –Yes or No on today's Poll question (main page) and then join me on my Facebook page to discuss. I would love to hear your thoughts!