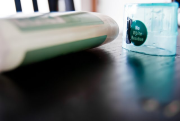 We can all agree that our deodorant is supposed to fight odor.  But, should it really act as your primary fragrance?

Do you honestly want to smell like everyone else in the locker room? Or on a date… Do you really want to leave that  lasting impression to your "sport" speed stick?
Yeah I thought so!
Well here are a few subtle and unscented deodorants that get the job done, but leave the lasting impressions to you and maybe a great smelling cologne.