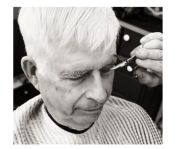 From time to time, I will run into a client that is fearful of me trimming his eyebrows or the little hairs that rest on the highest parts of the cheeks. For me it can be frustrating because perfection is in the details and sadly, I'm a HUGE perfectionist (to a fault… but that's another story, for another day). So anyway, the primary reason many of these men opt-out, is due to their concern of these hairs growing back thicker and darker when trimmed. And you know what? They won't.
Yup! Let me be the first to remove this fear from your heads.
If you're concerned about your eyebrows getting thicker when trimmed- it won't happen. If you're worried that removing those few hairs from your upper cheeks will make them return with a vengeance, that won't happen either. What causes these hair to grow in thicker has nothing to do with what you or your barber does to your hairs. It has everything to do with age.  That's right, as we age our facial hair typically grows in thicker and faster. So any general observations of hair growth as it relates to "us" (barbers/stylists) trimming, is strictly coincidence.