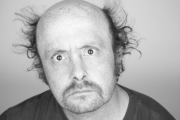 The other day I saw a man that was losing his hair straight down the center of his head. He walked around with his kids confidently sporting all that was left to show… the hair on the sides.
Of course hair-loss is an unfortunate situation, but what's even more unfortunate is not realizing what this style can do to your overall look!
What this guy and so many men don't realize, is that maintaining this hairstyle not only brings greater attention to the bald spot, but it can also make your face seem longer than it really is!
So what's the solution? Trim it down. Bring the "focal point" back to where it belongs, your eyes! A low buzz cut will give a truer definition of your face-shape and it will keep the onlookers from peering at the top of your head.
Give it a try! Trust me, you'll notice many more people looking in your eyes as you talk as opposed to your shiny dome.