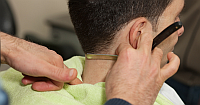 It's truly amazing the things that trigger inspiration for my blog… how about this one: neck hair!
I was recently en route to an event in NYC when I glanced at the cab driver. My viewpoint was, obviously, the back of his head so I couldn't help but see his neck… and boy, do I wish I had never looked that way! His neck hair was long enough to consider his hairstyle a mullet. A mullet growing from his neck. *pause* Yep, that long.
Now, I completely understand that neck hair can get long in-between haircuts, but allowing it to grow to the point where it's fighting your neck for space in your shirt is UNACCEPTABLE.
Guys, please hear my plea: CHECK YOUR NECK HAIR!
It may be hard, even impossible, to see your neckline. Well, for you to see it, at least. But for the rest of us? Trust me, we all know what it looks like. And that includes your clients, boss, significant other… so while you may think, "out of sight, out of mind," unfortunately the rest of us aren't that lucky.
What many men fail to realize is that just because your hair isn't in need of a trim that doesn't mean that your neck hair is all good in between trips to the barber.
You are in luck, I can share a quick remedy:  consider a tapered neckline (See post: Men's neckline choices: Squared, Rounded, or Tapered). With this option, the back hairline will grow out in a manner that keeps the style looking neater longer. If you happen to be one of the many men who struggle with a fast growing neckline, ask you barber to work out a deal for you where you can come in for a quick clean-up between haircuts. Or, worst case scenario, you can ask a friend, girlfriend, wife (you get the picture) to trim the area with a pair of trimmers. Hey, it doesn't matter the method you choose, just choose one!
Trust me, it will be worth your "visual" while!