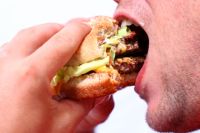 Have you ever had a rash or other skin irritation that didn't hang around long enough for you to find out why you had it in the first place? Well, it might have something to do with what you're eating too much or not enough of.
Did you know that 60 percent of our immune system is housed in our digestive tract? So that means that any disruption to the natural flow or balance in the body can vastly affect how the skin and the rest of the body function.
Here are a few foods that can help fight skin inflammation…
Spices – Certain spices like ginger and tumeric are natural anti-inflammatory agents. They carry the ability to hold back the proteins that lead to gene mutations, therefore decreasing the incidence of inflammation.
Good fats and oils – Olive oil, nuts, and avocado, amongst other heart-healthy fats, help to regulate cell metabolism and suppress inflammation.
Salmon – A top anti-inflammatory, salmon and other foods rich in omega- 3 fatty acids (think walnuts, flaxseed and avocado), are necessary for cellular repair.
Brightly colored veggies & fruits – Not only do fruits and vegetables act as a source of antioxidants, they also contain phyto-chemicals that buffer and regulate gene expression.
And of course…
Vitamins – Foods and supplements that contain C, E, and minerals can help the body combat damage created by free radicals.