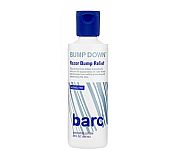 Let me first say that within the category of ingrown hair solutions, I set the bar pretty high mainly because ingrown hair challenges can be very common and worst of all unsightly, uncomfortable, and just down right frustrating.
With that being said, I tried Bump Down – Razor Burn Relief by Barc and found that it was only somewhat effective in getting rid of ingrown hairs. I have grown accustomed to seeing much faster results from products in this category and Barc unfortunately missed the mark.
I was also surprised and quite unhappy with the painful "bite" (no pun intended) it delivered where applied, especially after a shave. So if your looking for an ingrown hair solution to assist you in addition to proper shaving techniques, my recommendation would have to be to try something else.
[xrr rating=2.50/5]