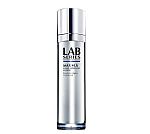 Lab Series Skincare for Men recently introduced their newest addition to their MAX LS anti-aging line- Light Moisture Lotion. It's effectiveness mirrors its counterpart (See: 2010 Must Have –  MAX LS Ageless Face Cream), however much lighter. It covers well with very little, and your skin will soon appear noticeable healthier. I personally felt a difference in my skin within 3-5 days of using this lighter formula.
Of course the more consistent you are with this product (like all others), the better results you will have. Priced at $50 for 3.4 oz may seem pretty steep, but keep in mind that this is an anti-aging system. Compared to the equivalent in a woman's line, this is a steal!
Combined with the remaining pieces in the MAX LS  line-  Overnight Renewal Serum & Instant Eye Lift, you will be well on your way to having healthier looking skin.
[xrr rating=4.75/5]