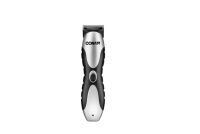 You can never have too many trimmer options available, especially when it comes to keeping your mustache out of your food!
So Conair for Men introduced their- 12-Piece All-In-One Beard, Mustache & Stubble Trimmer that gives more than enough options for taking care of any type of facial hair maintenance. What I found interesting about this trimmer is that it has (2) stainless steel cutting blades. The one that sits on top pretty much acts like a "clean-up" trimmer for what the bottom has missed, which makes for a faster trim. The top blade however detaches in order to use a single head for fine lines and edging.
It also come with (6) comb-guards for maintaining a low beard or scruff, a five position comb attachment for achieving different lengths, and a nose and ear trimmer… How's that for all in one? Oh and it also works pretty good on chest hair as well!
Overall, since this trimmer is rechargeable, it cannot handle a lot of "clean-up", so I would put it in the category of a maintenance trimmer.
[xrr rating=4.00/5]