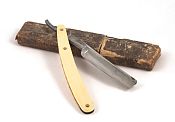 There isn't a week that goes by that I don't get asked about straight razor shaving, and if I think it's a wise choice for this day and age… For some, it's an absolute dream of an experience but for others it could be a nightmare.
Based on overwhelming client feedback, the best shave experience is in the chair of an experienced barber. But if you'd like to give it at try at home, here are the must have essentials broken down by my favorite company for shaving products – www.classicshaving.com.
________________________
Essentials:
Straight Razor – Like most things, there are varying degrees of quality. Don't buy the best or most expensive razor. You may not like the whole thing and who needs an expensive white elephant? Don't buy the cheapest razor either. If you're shaving experience isn't a good one you're guaranteed to give up on straight razors. The quality of the razor has a lot to do with achieving an acceptable outcome. Most beginners start with a carbon steel blade since they are easier to keep sharp.
Razor Strop – A strop will be conditioned and ready to use when purchased, there will be a short break-in period. All straight razors require daily stropping before and after use to maintain the razor-sharp edge. A good quality double-sided linen/leather strop will keep your razor ready for use.
Strop Paste – There are several strop pastes available, each one having a different purpose. For yearly maintenance on your daily-use strop you want a non-petroleum strop dressing for the leather side and some will use an abrasive paste for the linen side.
Razor Oil – Most razors are high carbon steel and can oxidize rather quickly.  Applying a thin coat of razor oil on a regular basis can protect your razor and keep it protected.  For long term storage we suggest Sentry Solutions Tuf-Glide.
Hone – While stropping is for routine edge maintenance it will not sharpen a dull razor. All razors will lose their edge over time. To replace the edge you will need to hone it 2-4 times a year. Do not use kitchen knife sharpeners or the hone you use for your hunting or pocket knives. Most such hones and sharpeners are far too coarse and will destroy the fine edge on a razor. A razor hone should be a minimum of 6000 grit but 8000-10,000 is preferred and will produce a finer edge.
Styptic Pencil – Minor nicks are nearly unavoidable when just learning. An alum based styptic pencil is generally all that is needed attend to them.
Patience – The various requirements of straight razor shaving do come with a learning curve. Be patient. Ask questions of those who have been doing it for a while and are available to help. Be realistic in your expectations and don't get frustrated if your earliest attempts don't go well. Keep practicing.
Ad-ons:
Shaving Brush – A good quality natural bristle shaving brush will allow you to use a wider variety of available shaving soaps and creams. Nearly anything you apply with a brush will provide a better shave than any foam that comes out of an aerosol can.
Shaving Brush Stand – Any stand that allows your brush to drain and air-dry in a bristle-downward attitude will prolong the brush's usable life.
Shaving Mug – A good quality, well made, sturdy mug will save you hundreds of times its cost over its lifetime. It should not be too deep so that you can reach the bottom of it with your brush. It should also be wide enough to allow brush movement while whipping up your lather, and it should have a strong easy-to-hold handle.
Shaving Soap – A high quality shaving soap will improve your shaving comfort and closeness. The soap provides the lubrication and hydration that prevents razor burn and nicks.
Conveniences – Anything that will make your shaving more convenient and thereby more enjoyable, ie. stands, mirrors, towels, etc.,  will be money well spent.