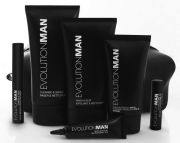 Product lines created by men and women in the grooming industry always peak my interest, and EvolutionMAN; created by Marco Berardini, a world-class hairstylist, groomer and make-up artist, is no exception . The selection of products are"just enough" for the average man to embrace.
I enjoyed the overall line, but the two items that stood out to me were the "Wash & Buff" (exfoliant) and the "Revitalize Eye Gel". The addition of the micro-beads in the Wash & Buff gave my face not only a cleaner feel but also a nice glow. And, the Revitalize Eye Gel gave my under-eye a nice cool that also kept this area well moisturized.
I also tried the lip balm and the face moisturizer, which were perfectly designed for the summer months ahead, since both have SPF 15 & 20 respectively.
EvolutionMAN's focus of staying free of parabens, sulfates, pthalates and… basically all things your dermatologist would warn you about, is a testament to their philosophy of staying not only environmentally friendly, but skin friendly as well!
[xrr rating=3.75/5]