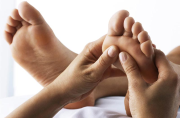 What? Did you think I wasn't going to write about it? (See Post: The Manicure)
Hey, what good is a manicure, if you don't take care of the other 10 nails? After-all, men's grooming is about the overall appearance, not just half of it!
Here's a fun fact…
"The average person takes 8,000 to 10,000 steps a day, which adds up to about 115,000 miles over a lifetime." And that total is before you add in strenuous exercise! So, with normal wear and tear being an unavoidable result, proper care in the form of a pedicure is essential.
A pedicure cleans feet (foot soak, scrub, cuticle clean-up, etc…), provides nail care and foot massages. Not to mention, a good pedicure can be very relaxing, and if you have foot problems it can be unbelievably therapeutic.
So, if you've never had a pedicure, ignore your buddies and get one. Not only will your feet look and feel better, you will too!
Besides, the weather is getting warmer and those puppies are bound to come out sooner or later, so be prepared!
*Quote provided by: Creatingagoodlife.com