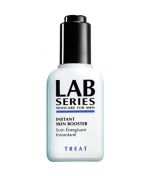 Looking for another way to hide the "tired" look on your face besides an extra shot of espresso and a cold water face splash? Well Lab Series'- Instant Skin Booster may be what you're looking for!
This new skin serum helps to reduce visible puffiness and redness that lack of sleep and the environment can inflict on skin. On the "outside", it tightens surface contours to lift and depuff skin. On the "inside", it helps strengthen skin's natural collagen fiber network to help give skin a firm look. And based on the instructions on how to use it, it's pretty simple! Apply 2-3 drops onto clean dry skin after moisturizer in the morning (Quick tip: For best results "pat" onto the skin, don't rub).
My little guy has been teething over this past month ( fun…!), so I've had the perfect reason to use it consistently! Anyway, as for signs of puffiness I definitely saw and felt a difference. When it came to a reduction of redness, the jury's still out since my complexion is too dark to rate that particular result. Either way, my general feeling about this product is that it's certainly useful for men who struggle with getting enough rest and having it show. For these guys, science has truly delivered a product that can help!
[xrr rating=4.50/5]