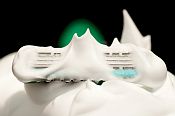 Today's post will address a question that quite a few have asked me since I posted this video about how often we should be changing blades. Sure, 3-5 shaves can make the pocket pretty light especially with the price point of many of these blades on the market; except of course if you're using a DE Razor… but let me stay on point here. As we get closer to the Holiday season we're all going to be trying to save a buck-or-two, but let's not do it at the expense of your face!
I think it's safe to say that over 70% of men go beyond the 3-5 shave per blade suggestion. So here are a few ways to recognize when it's the absolute last time you should use that old, very old blade.
Missing hair – the duller the blade, the more you will recognize hairs being missed per pass.
12 o'clock shadow –  the more you use a dull blade the more you will notice how much quicker your facial hair grows back.
Tug-n-Pull – when the blade loses it's maximum sharpness, some hairs will find themselves being pulled out instead of being cut. Ingrown hairs, razor burn, razor rash… all or a few will certainly follow.
Here are two tips to extend the life of your blades just a little longer!
After shaving, wipe the blade with a damp cotton swab filled with rubbing alcohol and store in a dry place or rest the blades in a small pool of pre-shave oil.
Never, ever store it in the shower.