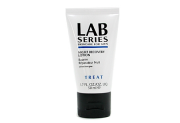 Lab Series Skincare for Men, is a men's grooming line that seems determined to find a solution to every skincare issue a man may have. And, this item does not disappoint!
Their Night Recovery Lotion offers continuous hydration throughout the night, for immediate and long-term moisture with ingredients like – Sandalwood extract, Barley extract and Spring Water. The ultimate goal of this product is to hydrate the skin while you sleep, all while helping to reduce the look of fine lines and wrinkles.Think of it as you giving your skin a tall drink of water before bed!
It's a very effective product that I use often at night, and especially when traveling to help fight the dry cabin air. One other plus, it's oil free!
[xrr rating=4.75/5]