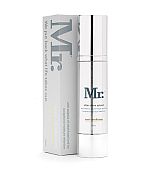 A new product line out of Australia- Mr. Essentials will be entering the US men's grooming market (this Fall) with a "splash" (no pun intended…).
Their After Shave Splash is more than just a "great smelling" astringent/toner. It's designed to help shrink enlarged pores while also tightening the skin. But, what's more attractive to the average shaver, is that it truly delivers a calming and moisturizing effect to a freshly shaven face.
It's alcohol free, and very gentle on the skin. The perfect composition to prepare the skin for the next step- the aftershave balm. Good stuff!
[xrr rating=5.00/5]