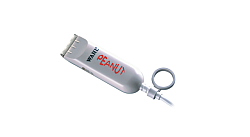 Thanks to the influence of athletes, actors and musicians, the beard trends varying from short to long will definitely be here for a while. So with that being said, if you are one of those guys that wears a little face protection from time to time, it's best that you upgrade your equipment.
The WAHL Peanut may not look like much, but it packs a whole lot of power in it's tiny frame. Picture the strength of professional barber trimmers at half the size. It comes with 4 comb guards for easy trimming, oil and a small brush. The blade design allows for a variety of choices ranging from a close shave to hard line detailing. And the best part, it takes up very little room when traveling or storing at home.
The WAHL Peanut w/ cord performed the best for me, and it will last you forever!
[xrr rating=5/5]