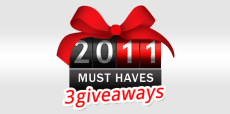 Hey, it's the Holiday Season! Why not make this month a bit more interesting?
As you are well aware by now, TMR is in full swing of announcing it's 2011 Must Haves. To complement these announcements, I am giving away three items from this list to 3 lucky readers!
Here's how it works…choose one or several! 
**Only one entry method required, but doing any or all multiple times will increase chances of winning. Contest begins today – December 5, 2011 and ends Friday – December 16, 2011 at midnight PST. All entries will be submitted to random.org and the winners will be announced here on the site, as well as via Facebook and Twitter.