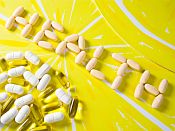 You know, there are vitamins for pretty much everything. And if you're looking to stay healthy by making sure that you're getting ALL that's necessary in your diet with food and vitamin supplements, you may want consider adding – CoQ10. Introduced in the article titled – The "Perfect Skin" Cocktail. CoQ10 is a substance that can be found in every cell of the body, where it is used to produce the large amounts of energy needed for healthy cell growth, repair after damage, and maintenance. It also functions as a powerful antioxidant, which protects the cells and the entire body from damage caused by harmful molecules.
Not only does it help keep the cells of the body healthy and in good condition, CoQ10 helps to keep the entire body functioning by helping to supply necessary energy to hard working organs.
Here are a few areas it is also known to help:
Heart health
Migraine headaches
Cancer trastment side effects
Blood pressure
'Nuff said right?
Well you should also be happy to know that taking CoQ10 supplements helps protect the skin from
premature aging
and may even help
reverse
skin damage. Naturally found in salmon, nuts and red meat, it is also conveniently available over-the-counter, and can be the solution for many of us in many different ways.
Personally, I have seen and felt the difference in my body and my skin!