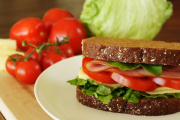 It's getting warmer by the day isn't it?
In some parts of the country, it's going to be a down right scorcher this weekend! So with that being said, I figured I'd help you prepare for this summertime heat fest using a skin protection regimen with a twist… an edible one!
Did you know that eating tomatoes can aid your skin in blocking the suns dangerous rays?
That's right!
Foods like tomatoes, peppers, and beets contain the antioxidant lycopene.  "Along with increasing your skins collagen levels, lycopene also acts as a natural sun block." says NYC nutritionist Brooke Alpert*
So the next time you're out searching for sunscreen, stop by your nearest market to pick up a few tomatoes as well!
*Source: New Beauty Magazine