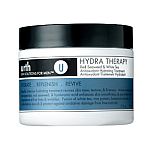 As we sleep our skin does something fascinating… It begins healing itself. So it's only wise that we aid this process by keeping it moisturized, right? Well, this ovenight cream by Urth seems to do the trick!
Aptly named Hydra Therapy, it is designed to revive skin-tone, texture and firmness. It uses a series of botanical extracts: Rice Protein, White Tea, Red Seaweed, Hyaluronic Acid and multivitamins to deliver a cream that fights against fine lines, wrinkles, and oxidative damage from free radicals.
It can be used 2-3 times a week as an overnight treatment, or simply used for 15+ minutes then rinsed off or wiped off with a warm towel on an "as needed" basis. It has a cool but subtle scent that lets you know it means business. For me, it certainly made my face feel well moisturized and seemed to have the calming qualities that are appreciated after an evening shave.
[xrr rating=4.50/5]