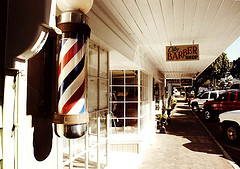 Excerpt from my interview with Mens' Health magazine…
Question: 
How do I get a great haircut?
Answer:
Communication, communication, communication, I cannot say it enough.  I know I may sound like a relationship counselor or your wife or girlfriend, but truthfully, the only way to get a great haircut is to explain what you want carefully.  I always appreciate when my clients have a picture of what they would like.  Also, make sure your barber or stylist listens and can confidently communicate back to you how they are going to achieve that look for you. Otherwise you might have another surprise waiting!
______________________
Earlier in my career, I found that I was not asking the right questions in order to get the right explanation from my clients.  Sometimes, my lack of probing resulted in a service that "could have been better".  Since then, I try the best I can to communicate to my clients the what, the why and the how before each service.  I hope the above Q&A, helps both barbers and clients out there have an even better experience!