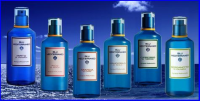 A few months ago I was asked to write a post on the best colognes for the summer… An idea that I couldn't wait to get started on!
Hey, summertime is the time to be outside enjoying the warm air, so with this in mind, fresh subtle fragrances should be the goal for the list!
First up was online research, then several visits to fragrance stores and fragrance sections in department stores. After a few weeks, I quickly put together a list (which I still may post!), until I bumped into this amazing line of 6 fragrances.
Blu Mediterraneo by Acqua Di Parma hit every aspect of what Summer fragrances should smell like under one roof. And best of all, because of the composition of each fragrance, they can all be randomly blended together to create an entirely new fragrance! My personal combination was Mandorlo Di Sicilia & Arancia Di Capri.
Of course summer only lasts a few months, but rest assured that whatever bottle you choose, you will be able to wear it anytime of the year!
Here are a few places Blu Mediterraneo can be found…
[xrr rating=5/5]