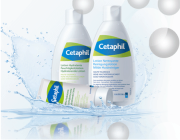 Drug store shopping can be not only extremely convenient but also easy on the budget! So I'm often asked… "are there are any drug store brands I enjoy using?"Since several come to mind, I decided just to start with the the Cetaphil line products.
Why? Because their line covers all areas of skincare while staying affordable and effective! My two favorites are the Daily Facial Cleanser and the DailyAdvance Ultra Hydrating Lotion; however, the entire line will not dissapoint.
So, the next time you feel confused in the grooming aisle of your local drug store, just remember this name, because you won't go wrong.
[xrr rating=4/5]