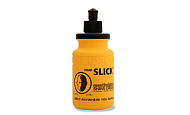 HeadBlade's premier shave cream is designed to create a slick surface, all while delivering a refreshing "cool" with it's key ingredient – menthol.
So does it deliver?
Yes, but maybe almost too well?!  Two out of three men that I asked to test the product on their scalp felt that it was a great cream, but the menthol seemed a bit too intense. After I tried it, I also noticed an impressive "cool" as well as a pretty slick surface. Perhaps the "cooling" sensation could be toned down a bit, but it definitely didn't deter me from ever using it again. Another good thing to note is that this cream goes a very long way, so you will surely get a great bang for your buck!
My only hang-up, is that after a few uses, the cream can glue the top of the container closed, forcing me to have to unscrew the lid. But if you're using this cream as your daily shave cream for scalp and face, leaving the bottle in the shower should solve that problem.
Bald guys everywhere, enjoy!
[xrr rating=4.25/5]