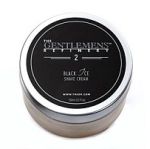 I was introduced to this product by the owner and creator of The Gentlemens Refinery grooming line, Perry Gastis. Perry, having worked as the Master Barber for the Art of Shaving and Executive Barber at Truefitt & Hill (North America),  I had to believe that he was capable of developing a very competitive product.
Disappointed…I was not!
Hand made with 100% natural ingredients, Black Ice Shave Cream, had me from the moment I opened the tub.  With a mix of Anise, Bergamot and Basil oils, Black Ice carries a subtle but very refreshing fragrance, which makes for a far more enjoyable morning shave.
It is consistently moist throughout the entire shave, with impressive lather! A little goes a long way with or without the badger brush.  And, not only is it great for home use, but it works very well in the barbering environment, which is a win + win in my book!
A must have in any grooming bag!
[xrr rating=4.75/5]