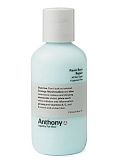 Razor Burn Repair – by Anthony Logistics
Packed with:
Marshmallow (Root) – Medically used for skin burns, muscle aches, and inflammations of the skin.
Chamomile – Used (in skincare) for various skin problems, such as skin rashes.  Also promotes cell regeneration (for faster healing).
St. Johns Wort – Used by doctors as a balm for burns, wounds and insect bites.
Followed by ginseng, vitamins A, C and E to nourish and protect the skin.
Not a bad mixture to calm the skin after a shave!
[xrr rating=4.50/5]