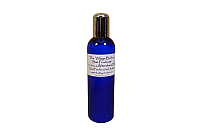 More and more barbers are trying their hand at their own product lines. And for what it's worth, I completely support it!
After all, who knows shaving products better than the people who use them on a daily basis?
Enter Master Barber – Iain Kane, creator of  The Village Barber product line. Currently comprised of two items essential in achieving a comfortable shave – the Shaving Oil and the Pure & Natural Aftershave Balm.
With over 30 years of experience in the field of barbering in the United Kingdom, Iain created two great products. However, since the "Product of the Month" title can only be given to one of the two, I chose the Pure & Natural Aftershave Balm, for it's truly noticeable skin calming properties and amazingly subtle fragrance! An aftershave balm is the key component in assuring that freshly shaved skin is properly healed and moisturized. And, the Village Barber has successfully accomplished that! 
All natural, chemical/paraben free and filled with more essential oils than I can count, is what gives this aftershave balm my seal of approval! 
*** Get 15% off at check-out  during the month of October by entering the code – TMR1 ***
[xrr rating=4.75/5]