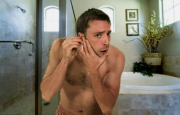 Q:
What should I know about trimming my eyebrows, ear hair, and nose hair?
A:
These are three very important areas to keep under control:
For your eyebrows, a good way to tell that it's time to trim them is when you notice that they are not staying down even after you apply your daily moisturizer. Your eyebrows should generally be maintained by your barber or stylist, so the next time you are in for a haircut or a shave, ask him or her to have a look at your brows.
Ear hair is also an area that barbers and stylists normally trim, but my best advice is to get it waxed. Minimal pain, it lasts longer, and you won't ever have to worry about swatting that invisible fly every time the wind blows.
Nose hairs can be both annoying and most times unsightly. Trimming them once a month is your best bet. Consider purchasing a nose and ear trimmer to keep everything under control.
For more Q+A's from me click here!