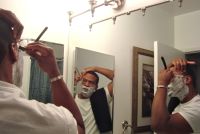 I get asked this question a lot, and for good reason! Men of color are always in search of finding a solution to the ever growing problem of ingrown hairs and darkened complexions from shaving. So the question is definitely warranted!
Is there a perfect product that will make these woes disappear? Unfortunately, no.
But the answer isn't in the product, it's in the education. Of course no one wants to hear that because we're all looking for the "quick fix", but it's true. You can use the best unscented shaving cream, razor and non-alcoholic after shave balm, and still find yourself suffering with ingrown hairs.
Most men with darker skin complexions typically have curlier hair than their lighter skinned counterparts. The curlier the beard, the more issues one will have with how the hair reacts to it being cut short (i.e. curling into or under the skin). So shaving with a razor without truly knowing the growth pattern, or even using a multiple blade razor are two quick examples of things that can easily be the source of the problem.  The same applies with using alcohol heavy aftershaves and ingrown hair treatment products; these items can oftentimes aid in darkening the shaved area.
Here are a few articles I've written that can help you to better understand your beard…