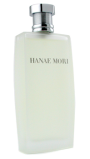 I think that there is nothing more fitting at this point (being that we covered shaving, cleansing and hairstyling), then to finish off with an item that brings this all together…cologne!
Since we all know how to apply it now, and make it last (See Post: How to Apply Cologne), I searched my bathroom counter for one that I can recommend.
One of my favorites… Hanae Mori by Hanae Mori for Men
An oldy but goody!  It's been around for over 10 years (not on my counter, but you know what I mean…), and the scent never grows old.  I won't bore you with the fragrance notes, but the base fragrances are moss, vanilla and amber.  Hanae Mori, is made for the evening, and is the perfect fragrance to have on for when you just so happen to be under a mistletoe!
Priced $25 – $80, it is competitively priced with other colognes.  So go out, and treat yourself…you deserve it!