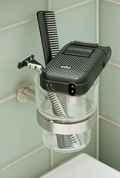 How does a man determine which shaving tool to use, razor or electric? – Michael F.
The best way to choose the right shaving tool, is to see how your skin reacts to their use. The curlier the beard, the more aware one needs to be with how close the hairs are cut. Ingrown hairs are more common with wet shaving because of how close the hair is cut. In contrast, razor burn is most common with electric shaving due to repeatedly going over the same areas.
Not to worry however, because with correct preparation, potential for ingrown hairs and all signs of irritation can be reduced.  After experimenting with both, the method which yields you the most satisfactory results will be the best choice for you.
Preparation links, click below: