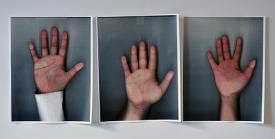 1. I understand the advantages of a professional shave. Is there a number of times a man should get a pro shave each month among day-to-day shaving?
There really isn't a recommended number, since so many faces react differently to a very close shave. How I try to guarantee my best work is to suggest a visit to the shop with 2 to 3 days beard growth, which in many cases minimizes any potential irritation.
2. What is the best way to learn how to shave? Have someone teach you?
Have someone teach you will always be the best recommendation. 30 minutes of education from a barber will save you years of shaving frustration.
3. I shave electric and apply aftershave when finished and then shower after depending on if I cut my own hair at that time. Does my shower remove the after shave? And should I reapply the aftershave again when I'm done showering?
Great question! Upon application, the skin will begin to absorb the the healing and moisturizing components of the aftershave.  Unfortunately, showering will remove the remaining portion not yet absorbed.  So it is strongly recommended to reapply after showering.