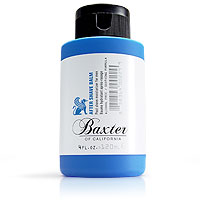 Baxter of California just recently opened their very first barbershop in Los Angeles, CA.  So, I think that my selection of May 2010's "Product of the Month" is coincidentally very timely.  Not only does their new barbershop bring back a bit of what has been lost in the barber business, it also provides their superior grooming products in house!
In this rapidly growing men's grooming industry, it can get very overwhelming with the number of products that are on the market.  So here is a product that I found to stand out among many others in the After Shave category.
After Shave Balm by Baxter of California
I'm impressed! It has a very subtle fragrance that will never overpower your cologne; a light consistency, so it spreads easily without using too much; and, most importantly, as it heals, and hydrates the skin, it delivers an amazing cool that will instantly calm your skin.
Priced @ $15 for 4oz., Baxter of California has positioned a great product at a very affordable price.
Give it a try and tell me what you think!
*Baxter Finley Barber & Shop pics and Article… Click Here!
[xrr rating=4.25/5]