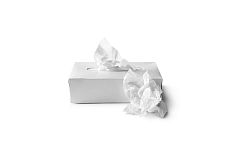 You know it never fails that even when you do everything right (from smart prep to a great lather…), you still end up with a few blood spots on your face from shaving.
Whether the blade is too sharp or you just can't avoid a few hair-pulls. Here are 2 easy shower remedies to keep the tissue paper on the roll and not all over your face.
*Shave in the shower – Opting for this method of shaving allows the skin to be the most moist, thereby reducing the chances of any "spotting". This time in the shower also gives these tiny nicks time for the blood to "coagulate" or thicken.
However, if you do not like the idea of shaving in the shower even though you can use a great mirror like this one ~ ShaveWell. Consider this…
*Shower after the shave –  this option allows for the freedom of shaving in your most comfortable setting. Then the shower after, offers the same blood clotting benefits without the pain of waiting for the bleeding to stop before getting dressed. Or worse, ruining a shirt.
These options effectively cancel the need for styptic powders, pens or liquids. Not to mention, finishing in the shower with cooler water helps to also reduce redness of the skin from shaving.