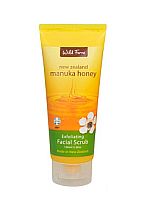 A good friend of mine has been raving about this product for a long time. Two years to be exact. And for that same length of time he would ask if I've tried it, and sadly my response was an embarrassed "no".
But, I am happy to say that is no longer the case. This brand out of New Zealand – Wild Ferns has created a great face scrub using the honey produced from their Manuka tree.
*Manuka honey contains special antibacterial properties including an enzyme that produces hydrogen peroxide, which is a proven antiseptic.  It is also extremely rich in proteins, vitamins and minerals and has the outstanding ability to nourish, soothe and heal sensitive skin.
Combined with apricot kernels, this scrub not only delivers on it's cleaning power, it also leaves the face nice and smooth. Precisely the reason why my good friend swears by it.
So if you're in the market for a new face scrub DO NOT pass this on up!
[xrr rating=4.75/5]
 *Info from Parrsskincare.com