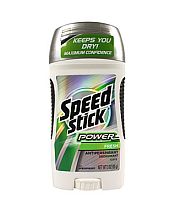 You simply can't function in this busy world without protection from body odor. One obvious reason… doing so, helps to build and maintain lasting relationships! So with that in mind, Speed Stick decided to "kick-it-up-a-notch" and create a stronger antiperspirant designed to give you 24hr protection in 4 masculine scents.
If you're like me, it's hard to trust a deodorant outside of the one that you've grown comfortable with. But since Speed Stick had been around for so long, you have to believe that they know what they're doing!
I tried all 4, but gravitated quickly to the "Fresh" scent. Initially it comes off strong, but it dries down fairly quickly avoiding any cologne conflict. As for it's performance, it handled my busy lifestyle like a CHAMP!
So if your deodorant keeps disappointing you, give this one a try!
[xrr rating=4.25/5]