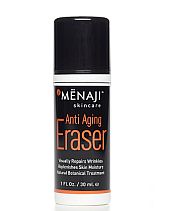 Menaji Skincare has released it's new and improved anti-aging product – Eraser. It is designed to enhance the elasticity, strength and texture of your skin by leveraging the molecular structure of peptides with the added bonus of  ingredients like Squalene and Hyaluronic Acid.
How did it perform? Surprisingly, not as well as their other products (See: here & here). Unfortunately, I couldn't quite get past the lack of moisture it left on the surface of the skin to really assess how it was performing in the anti-aging arena.
One of the challenges may be that the climate here in Southern California is much drier than other parts of the country. If this by chance is a factor in how it performs in drier climates, then it must be accompanied with an additional moisturizer. With that being said, it will probably yield better overall results in this scenario when used as a  serum.
All in all, the presentation and the idea of the pump works well especially for the average heavy-handed guy. For the price; however, it should have performed better as a stand-alone product.
[xrr rating=3.50/5]