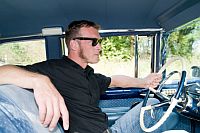 For the past few months, I've noticed a resurgence of sideburns in ads, TV and on the street. And, I'm sure my "How To" on how to grow a pair have helped… ok, maybe not! Either way, I've seen some interesting attempts (to say the least…) of guys really trying their hardest to get 'burns to work for them. So let me breakdown a few Do's & Don'ts that can help you improve the way you wear them.
First off, let's narrow down the most important aspect of wearing sideburns… Your Face Shape. If your face is round or your chin isn't very pronounced, keep 'burns at mid-ear or shorter. If you have an oblong or rectangular face, keep them a little longer–mid-ear to earlobe length. (Not sure what your face shape is? Read this: How To: Determine Your Face Shape)
Here are a few other tips!
Keep 'em narrow – Don't let them grow wider than about an inch. Keeping them that way is easy: Buy a comb as wide as your 'burns, hold it up against them, and follow its smooth edge with a trimmer. Unless of course you're wearing ice-picks or any other "non-traditional" style. Then you leave that handy work to your barber!
Avoid fluff  – Watch the edges and puffiness of your sideburns. If you have shaggy hair, keep your sideburn hair short, around an eighth of an inch. Bushy 'burns push long hair away from your face, creating a mushroom effect.