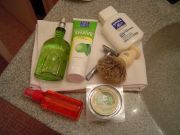 By Jessica Lothstein for Men's Life Today
As Don Corleone would say, "Keep it in the family, and no one will get hurt."
There are five fragrance "families": floral, oriental, woody, fougere and fresh. And the best way to make sure your scents aren't clashing (or competing) is to stick to scents from the same family.
Figure out the smell you like best, whether it's the pine in your shaving cream or the lemon in your soap, and use that scent to form the base of your grooming scent profile — everything else should match. Certain smells do work well together, like juniper and sandalwood or cinnamon and orange, but if you don't have an experienced nose or can't decode the ingredients on the label, you risk making an olfactory taboo like mixing a musky cologne with a citrusy deodorant (believe me, one whiff of that and you'll be hopping back into the shower to rinse off).
If you love your cologne, you could also buy the matching products — many designer colognes now have complementary soaps, deodorants and lotions.
There is, however, a simpler answer, and it involves subtracting from your arsenal of scented lotions and potions. If you buy your creams, soaps and deodorants in a fragrance-free version (often marketed as "for sensitive skin" or "hypo-allergenic"), your cologne — or scented product of choice — will shine, and you can switch it up without having to worry about a family feud.
Need another reason to go scent-free-ish? As long as we're talking about types of "families," researchers are looking into whether dousing yourself in too much fragrance could harm your family jewels. Seriously: They contain phthalates, which have been linked to certain reproductive disorders. So, at the very least, you might want to avoid adding aroma to your special place till the facts are in.