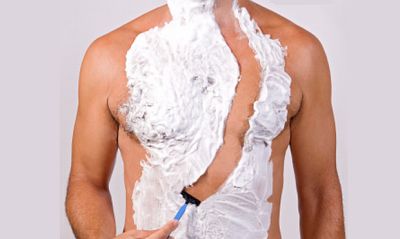 I've been noticing that there has been a big push in the world of entertainment, and now grooming companies, to "jump" on the band wagon of below-the-belt grooming. Now, don't get me wrong, I don't see anything wrong with anyone making sure that their boxers or briefs are just as happy as their partners, but creating a movement that makes guys feel that they "HAVE TO" is pretty silly!
Sure, we've taken HUGE steps in making sure that our grooming game is up to snuff… But Brazilian waxes?! OUCH!
However, since there have been so many email requests to shed a little light on this subject, I shall oblige…here we go!
Rule #1: If it looks like a wolf… – For many lucky guys out there, the hair growth down-under may be light enough where there is no need to dedicate time and effort to grooming. Nevertheless, having a pleasant presentation certainly can't hurt! For this, you have 2 options: 

Body Groomer

/

Trimmers

or Razor
Rule #2: Know what

YOU

are comfortable with! – The razor can be used to remove all types of hair. But the results may be the same for many who struggle with shaving irritation. So try testing a small area 1st. This way you won't have to deal with top

and

bottom irritation.
Rule #3: Know your hair – This same

rule

applies to all types of hair. The way your hair grows determines how close you will want to cut your hair.
Rule #4: Make powder your best friend! – Hey, most of us have played sports and hung out on a hot day! Well, when that hair that you've shaved/trimmed starts growing back it gets even more interesting. So invest in body powder that keeps the chafing at bay! (Here's a rec! ~ Balla Powder for Men)