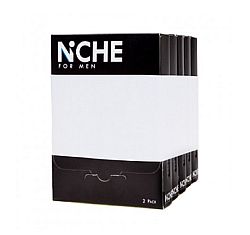 So it's mid-day and you've been working up a sweat at your job, crunching numbers, making deadlines…and all the other plethora of things you office guys do. 🙂 Your office buddies are talking about hitting up 'happy hour' for a few drinks directly after work, but you've got that not-so-fresh feeling from being suited up at work all day with no time to spruce up. What now?
Enter Niche for Men – Male Deodorizing Wipes. A body wipe designed to cool and deodorize your body when you're not able to jump in the shower for a quick rinse. The wipe itself is about as big as a hand towel (12″ x 10″),  and has more than enough product (Aloe Vera,  ginseng, soothing oils and masculine scent) to pretty much cover the entire body. And, the packaging is small enough to fit in your desk or glove compartment. For me, it certainly did it's job. My only hang-up is that it's choice of masculine scent (which certainly isn't bad, by the way…) is pretty strong and will ultimately overpower any cologne you already have on or are wanting to re-apply. So you will have to really like the scent enough to use this deodorizing wipe.
Overall, this is a good idea and option for the active man.
[xrr rating=4.25/5]