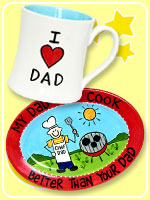 Well, it's that time again and I know that it can be difficult to figure out what to tell your special someone, to get you.  Hmm…a nice tie, grilling tools, cologne?
Well, I've been thinking…and I came up with an idea!
Why not treat yourself to a day of pampering? At a place that understands what a guy likes?
Here's a thought: request a gift certificate to get a good old fashioned shave.  There are so many full-service barbershops opening up around the country.  I know because I've worked in a few.
They offer shaves, haircuts, manicures, pedicures, facials and even massages in some places.  It may sound like your standard spa, but these places have a nice, manly twist.  Many offer you a bottle of beer and snacks while you watch TV, all while you get your service! Consider a package. Now…its very possible that you might not want a haircut since you are extremely loyal to your barber or stylist, but consider a few of the other services.
Here are a few places I know will treat you right!
The Shave of Beverly Hills – Beverly Hills, CA
Dean Anthony – Long Beach, CA
Metro for Men – Irvine, CA
Aidan Gill for Men – New Orleans, LA
Grooming Lounge – Atlanta, GA & Washington D.C.