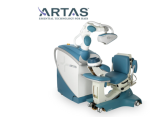 I think we all know of at least one person who's losing their hair. And in my line of business, I know more than a few!  For those dealing with hair-loss, the options can be limiting, making acceptance sometimes very difficult to deal with.
So what are your options? Pills, potions, plugs, surgery or simply shave it off are clear options. But what if there was a procedure that didn't require the scarring of surgery, created a realistic hairline, and provided effective results? Well, there is!
The new ARTAS system by Restoration Robotics Inc., is a minimally invasive way to perform a hair restoration procedure that doesn't create the permanent scarring seen in the current procedure – strip harvesting. In fact, patients are able to go back to work after 2-3 days! I had the opportunity to speak with Dr. James Harris, one of the medical advisors for this new procedure, and here's how he explains it.
Hair restoration  moves healthy, functioning follicles to the areas of the patient's scalp most impacted by baldness- this procedure is called follicular harvesting and is normally done by hand. The new ARTAS system performs this procedure faster and much more accurately with the use of an image-guided robotic arm. This allows for significantly reduced procedure time and costs, not to mention the ability for the system to recreate a more realistic hairline due to it's pin-point accuracy.
Here are three things that really stood out for me.
The current strip harvesting procedure take 8 – 10 hours to complete, with a week and a half recovery time. The ARTAS system cuts the time in half and gets you back to work in 2 days! 
Men that have had the strip harvesting procedure can use the ARTAS system to cover-up their existing scar.
FDA approved, with evident results within 5-6 months!
For more information, contact Dr. James Harris  – information@hsccolorado.com
Tell him Craig the Barber sent you!
See below to see before & after pics!
[fancygallery id='hair-beforeafter']
[fancygallery id='hair-beforeafter2′]
[fancygallery id='hair-beforeafter3′]
[fancygallery id='aftersurgery']
Donor area 8 days after surgery