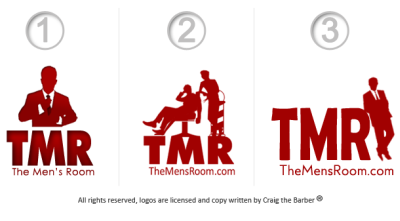 Starting next year (2011… sheesh!?!), TheMensRoom.com will have a new look and a new feel!
With that being said, I need your help!
The three logos above are in their final stages, but I will only be choosing one…
(1) the Man on Top (2) the Barber Shop or (3) the Leaning Man
As an author, I highly value the interests and opinions of my readers. So whether it's a comment on this page, a Facebook or Twitter message, or even an email (newlogo@craigthebarber.com), let me know what you think!
The votes will be tallied over the entire month of November, and the logo with the most votes will be on the new face of the blog, so please vote early and often. Thanks for your help!