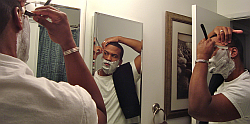 I get emails from time to time asking me if I truly follow the steps that I have on my website (Craig the Barber's Quick & Classic Shaving Tips).
My answer…
Yes, I always follow these steps!  Why? Not only do these steps work, but they work well.
You know,  we should all take time to consider pushing the reset button on how we perceive proper grooming, especially in the shaving category.  The face is the first thing someone sees, and first impressions still reign supreme.  So take a look at my steps and consider following them.  In no time you will see better results both on your face and in your social life!
Remember, the goal is to shave the hair to give a cleaner visual appearance.  Sometimes "baby butt" smooth should be left for babies!
Side Note:  From time to time I personally notice irritation on my neck from shaving multiple times a week.  So there is nothing wrong with shaving your face with a razor and your irritated area with trimmers for a few days.  Or, switch it up all together and  just use trimmers for a couple days to give your face a rest.