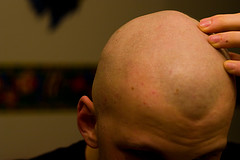 I've received several requests and questions regarding how to properly care for shaved heads.  So I thought that I would do a re-post of an earlier post titled – You ask…I answer! This question can also be found from my Q&A page on www.craigthebarber.com.
Q:
What is the best way to shave my head, electric or conventional?  Also, I shave my head every 3 days or so, how do I avoid dry scalp from continuous head shaving? – Edwin in Tampa, FL
A:
Great question, I get asked this one often from my clients.  Unfortunately, there isn't really a "best" way per se, it is more a question of what is better for you based on closeness and comfort.  So my question to you would be, how close do you like the hair on your head to be?  If you have noticed a great deal of irritation from razor shaving, try my Quick & Classic Shaving Tips.  If you continue to get similar results, then electric would be the better option for you.  Buy a pair of barber quality trimmers (ex. Andis T-Outliner) and give it a try.  You will notice that the trimmers will not get as close as your razor; however, in my opinion comfort trumps closeness every time. In the long run, your scalp will better tolerate having some hair versus the dryness and possible scarring of continual irritation from the conventional method, if it is an issue for you.
When shaving with an electric shaver use a shave solution prior to shaving (here's one… Electric Shave Solution by Lab Series) that is designed to lift your hair and protect the skin's surface. This will help reduce irritation to your scalp.  With wet shaving (razor shaving), use a pre-shave oil that is essentially  designed to do the same as the electric solution.  After shaving, apply a balm that is designed to heal your skin followed by a top quality moisturizer.  Because, whether you are shaving your head with a razor or electric shavers, it is very important to take vital steps to heal and moisturize your scalp.