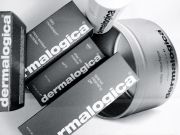 As I'm sure you know, I try out a lot of products. And it's safe to say that I'm well aware of the fact that trying different brands at the same time could sometimes be a bad idea! But last week I pushed that envelope, and successfully re-learned a not-so-pleasant old lesson. I figured, hey, if it can happen to me as an experienced barber, it's a great opportunity to make sure you guys learn it too… hopefully without having to learn it the hard way.
Here was the scenario: Last week after shaving, I applied Eyre's – Cehami After Shave Balm to the shaved lower half of my face and Dermalogica's – Intensive Moisture Balance to the top half of my face. [For those who are wondering why I do this, it's so I can recognize the effects of the after shave balm and moisturizer separately, for recording purposes.]
Anyway, I immediately realized a tingling sensation around my cheeks followed by a slight redness, so I washed my face and just applied the moisturizer, and all was well. Of course for the sake of this post and my readers, I had to do this again just to see if I would get the same reaction. And you know what…? I did!
So, for the sake of "research", I mixed a few other brands to see what would happen, only to see similar effects, although none as dramatic as the initial test. Of course, as long as I stayed within the family of all of these brands I had absolutely no problem.
In conclusion, just because some products work well independently, doesn't mean that the same is true when they're mixed together. So, be cautious, and always test new products on small areas of the skin first. Especially after shaving, since this is when your face is the most sensitive.