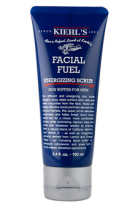 One of the ways that I go about testing products, is by selecting a few that I like, and then sampling them on my clients during their services. It's essentially a win-win for me, because their feedback allows me to decide on my next P.O.T.M. (Product of the Month), and it also gives me an opportunity to introduce a new product!
Last month, I sampled Kiehl's Facial Fuel Energizing Scrub in my signature 7-towel shave.  It impressed my clients, as well as myself!
Here's the skinny…
Two active ingredients:
Apricot Kernel Oil – extracted from apricot kernels, delivering a higher level of  Vitamin E to the skin. Increasing the moisturizing and softening effect on the skin while also helping to retain the skins clarity and suppleness.
Caffeine – helps to reduce the appearance of puffiness. (See post: Who said caffeine isn't good for you?)
To finish off this well balanced scrub, Kiehl's also added menthol and extracts derived from Lemon and Orange Peels. The complete mixture lives up to its name, by delivering a cool that "wakes up you up", and your skin! As I've mentioned before, a mild exfoliant is perfect for preparing the skin for a shave… and my friend, this is one fits the bill!
Moderately priced @ less than $20, makes this scrub a win-win for you as well!
[xrr rating=4.5/5]